"My Heaven" Japanese Single
May 13, 2009
45 second clip of their Japanese Single, "My Heaven." yes, this is the jap version of "Heaven"

credit: gilbakk@youtube.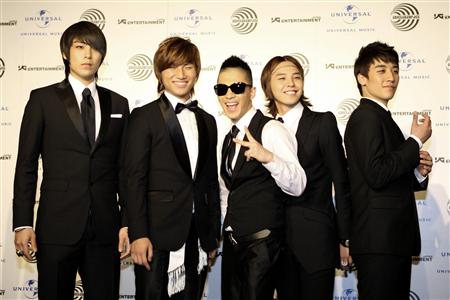 Source: E-Daily
Translated by: gdluvzmc @VIP Translators
*do not add to or remove credit lines*
Big Bang held a press conference at noon on May 13th in Japan's Tokyo Hyatt Grand Hotel to celebrate the release of their new single, 'My Heaven' at Japan's Hyatt Grand Hotel, near Tokyo.
Big Bang signed a contract with UNIVERSAL MUSIC to release a major debut single in Japan. At the press conference: "Thank you very much to the fans for the wait. We will work hard as always." They also expressed interest in performing in Japan's NHK Red & White Songfest, where DBSK, BoA, etc. had appeared in & said, "We will also work hard in hopes of participating in it too."
Big Bang was greeted by 500 local fans at the airport, some of them crying.
Big Bang's Japan major debut single will be released June 24th.
——–
Check out BB's Japan site:
http://www.universal-music.co.jp/bigbang/
3 TRACKS:
1. My Heaven
2. Emotion
3. Candle Remix
3 comments